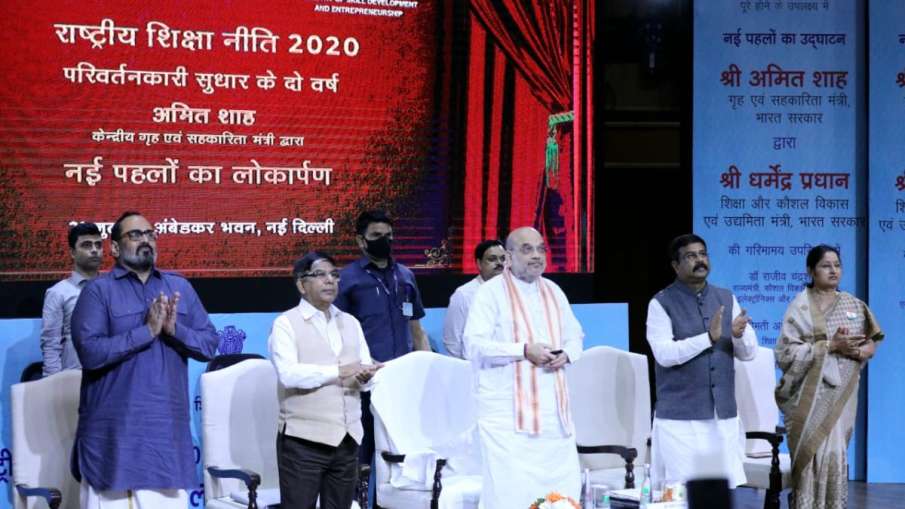 Highlights
Preparations to launch PM Shri School across the country from September
The aim is to establish more than 15,000 PM Shri schools by the year 2014
At least one PM Shree school will be opened in every block
PM Shree School: The Union Ministry of Education has drawn up a roadmap to launch Prime Minister Narendra Modi's ambitious Prime Minister Shree Yojana. According to sources, in the month of September, the government may launch it in all the states of the country. Everyone is eager to know in detail about PM Shri schools starting under the new education policy. Will PM Shri School prove to be better than all the government schools so far, will their building and structure be completely different or will the old schools be upgraded and given shape as PM Shri School. What will be the specialty of PM Shri Schools. How and which students will be eligible for admission to this. What state-of-the-art methods will be used to teach students. What level will the teachers teach in these schools and on what basis will they be selected. etc. questions are in the minds of common people. Let us tell you what will be the nature of PM Shri schools and when will they start…
All preparations have been made to launch PM Shri Schools, which will be established on the basis of the new National Education Policy, by the third-fourth week of September. Their plan is prepared based on the proposal of Prime Minister Narendra Modi. These schools will be a model for the country and all states.
This will be the nature of PM Shri Schools
By the year 2024, more than 15 thousand PM Shri schools are to be established in all the states of the country. These will be run as per the guidelines of the Union Ministry of Education. It will be set up on the lines of Kendriya Vidyalaya.
In PM Shree schools, there will be education from pre-school to 12th standard.
Instead of creating new infrastructure for PM Shree schools, only old government schools will be upgraded.
Priority will be given to convert government schools with strong infrastructure to PM Shri.
Campus and structure of government schools will be made beautiful, strong, attractive and big as per the requirement of PM Shri Schools.
At least one PM Shree school in every block of the country
At least one PM Shri school will be established in every block of the country on the instructions of Prime Minister Modi to bring revolution in education in the country. So children of common people can also get a chance to study in it and they don't have to go far from home to study. Children are the future of the country, so the foundation of their early education should be strong. So later he will be able to make an important contribution to the development of the country. Under this scheme, one high school and high school each in each district of the country will also be connected. Opinions of all states and Central Government experts have also been sought to establish PM Shri schools on the model schools of the country.
There will be no shortage of money
There will be no dearth of funds for the construction, development and expansion of infrastructure required to set up PM Shri Schools. The responsibility has been assigned to the Union Ministry of Finance. The Ministry of Finance will release the funds in accordance with the Ministry of Education's requirements. That is, the entire cost of PM Shree schools will be borne by the Center itself, but the responsibility to implement and monitor it will rest with the states.
Features of PM Shree Schools
State-of-the-art laboratories will be set up in schools of PM Shri. So that instead of becoming a bookworm, students learn and gain experience from direct experiments. This will keep their confidence strong. The subjects will be taught in a format so that new curiosity can be created in the students. During this discussion based learning among students will be made compulsory. Schools will be established in an integrated and real way of living. There will be more focus on sports among children in pre-school and primary school. So that along with academic, physical development can happen in them. This will strengthen the children's self-confidence.
Fees and entrance fees
The fees and admission process of PM Shri Schools are yet to be announced. But sources claim that for this the students have to clear a common entrance test. The admission process will be completely transparent. Source recommendation will not be prioritized. So the talented children can get easy access. Fees will be fixed later on the lines of Kendriya Vidyalayas.



Other important features
Classrooms will be made smart in all PM Shri schools.
Playground will be mandatory.
Science laboratory will be established.
The skills laboratory will be specially designed.
There will also be a state-of-the-art library for the students.
A special computer room will be arranged.
Teachers must meet these standards
Only specialist teachers in subjects like Science, Mathematics, Sports, Arts etc. will be able to be posted in PM Shri schools.
The ratio between teachers will be ensured based on the number of students in the school. There will be no hesitation in this.
Teachers must fulfill all the criteria of the Union Ministry of Education.
Teachers who do not perform well are not given more opportunities.
For those teachers who perform well, the government will also give a separate incentive supplement.
Every teacher teaching in PM Shree schools has to undergo a special training workshop at the centre. Posting in PM Shree schools will be possible only after receiving the educational certificate from there.
Latest India News