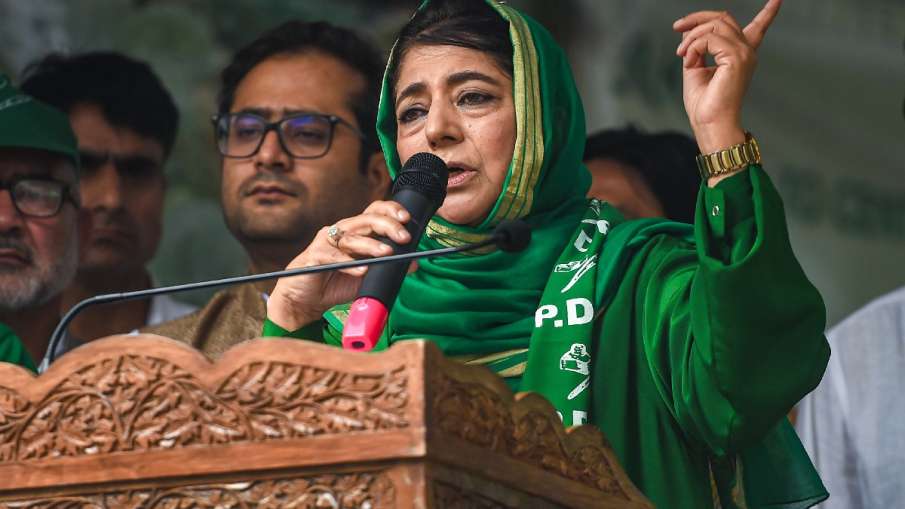 Highlights
"On one side there are a million army men, on the other side there are young people with weapons"
Targeting PM Modi
"Have you stopped at the repeal of Article 370?"
Jammu Kashmir: People's Democratic Party (PDP) chief Mehbooba Mufti on Thursday told Prime Minister Narendra Modi that by declaring Jammu and Kashmir a peace zone and opening all routes along the entire Line of Control, it will be seen as a sign of cooperation between the South Asia Association for Regional Cooperation (SAARC) countries. A model should be made. He said that every member country of SAARC should be allowed to invest in Kashmir.
"No choice but negotiation"
In a fiery speech at Sher-e-Kashmir Park here on the occasion of the 23rd foundation day of PDP, he also said that there is no other option but negotiations to resolve the Jammu and Kashmir issue. He said that with the name Jammu and Kashmir, you are afraid to name Pakistan, there is a saying that "faces the difficulties with courage". She said I request Prime Minister Narendra Modi to make this Jammu and Kashmir and the other Jammu and Kashmir a model of SAARC cooperation. He said that by declaring both Jammu and Kashmir as a peace zone, let all the SAARC countries invest here.
Mehbooba asked questions to the PM
Addressing the party workers, Mehbooba said that along with allowing SAARC countries to open banks and craft universities in Jammu and Kashmir, all roads should be opened and everyone should be allowed to move freely. He said trade between India and Pakistan is going on at the Wagah border in Punjab, but it has been closed in Jammu and Kashmir. Mehbooba asked in a questioning tone, did we ever hear that there was firing on the Punjab border or that there was a war between India and Pakistan on the Gujarat border or the Rajasthan border? Then he himself replied and said that this is happening only on the border of Jammu and Kashmir.
Targeting PM Modi
Mehbooba said there is a war going on inside Jammu and Kashmir, on one side there are 10 lakh army personnel, on the other side youths with weapons. He said the problem must be solved and there is no other option. He also asked the Prime Minister to make Jammu and Kashmir the gateway to Central and South Asia. "Pakistan and China have said that all countries can become part of the China-Pakistan Economic Corridor (CPEC), a route that runs through Jammu and Kashmir on the other side to Central Asia and South Asia," Mehbooba said. But you said don't do it, but they will do it, and they won't stop because you said so.
"everything is broken here"
Mehbooba asked that when he had said that, did you stop abrogating Article 370? He himself reacted to it saying you went ahead and ruined everything here. SAARC was established on 8 December 1985 in Dhaka with Afghanistan, Bangladesh, Sri Lanka, Bhutan, India, Maldives, Nepal and Pakistan as member countries.
Latest India News