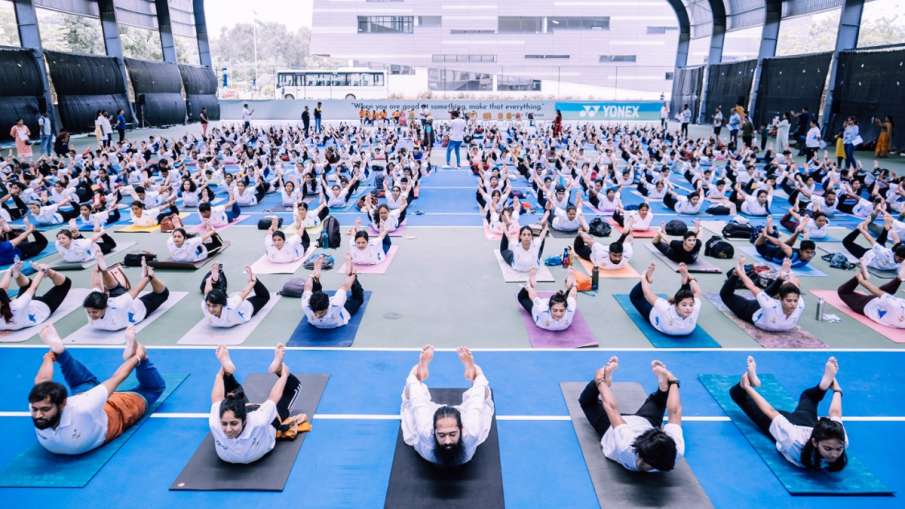 Bengaluru: The Akshar Yoga Research Center in Bengaluru, the capital of Karnataka, has created a Guinness World Record in Dhanurasana. On August 27, 2022, 285 yoga practitioners successfully performed an asana called Dhanurasana or Bow Pose for 2 minutes to enter the Guinness World Record Book. The official Guinness team observed and evaluated the event and awarded Akshar Yoga the Guinness World Record certificate for successful completion.
The minimum number of participants set for this record was 250 and a total of 285 participants were present to perform the asanas. People gathered under the guidance of Himalaya Siddha Akshar to set a record in the Guinness Book of World Records. The Akshar Yoga Research and Development Center is located at the Padukone-Dravid Center for Sports Excellence. All the 285 yoga students who performed this asana for the Guinness World Record went through rigorous training which made them successful.
Guinness officials provide the certificate of world record.
Many underprivileged and differently abled children were also trained by master level teachers in Akshar Yoga especially for this event. The purpose of trying to set this record was to send a message to the world about the power of yoga. It is a demonstration of how you can make your life rich and beautiful by practicing yoga. The 285 yoga students included people from different walks of life. For this, students from schools, colleges and universities all over the country were also gathered. Himalayan Siddha Akshar, the founder of Akshar Yoga Sansthan, dedicated this record to all the yogis of the world.
Latest India News