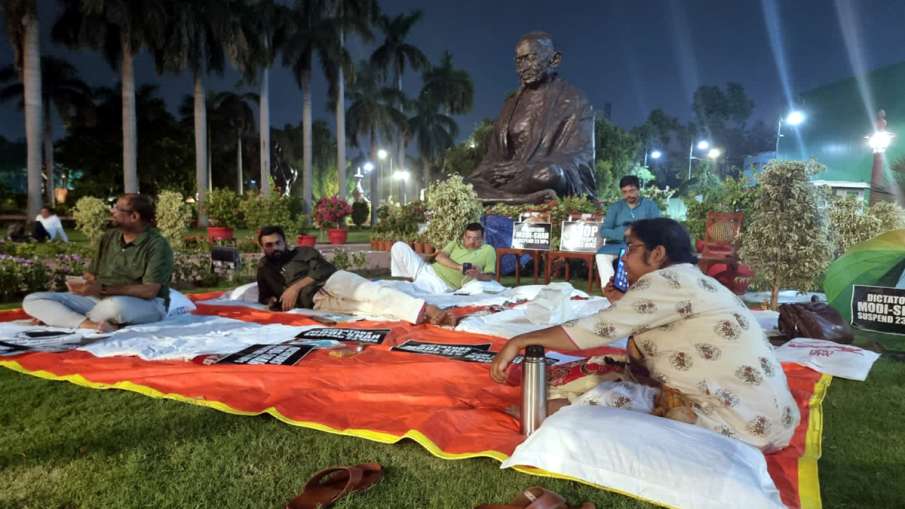 Highlights
Suspended MPs protest in the Parliament building complex
Protested in front of Gandhi statue for 50 hours protesting suspension
Instead of admitting mistakes, MPs display arrogance: The government
Rajya Sabha MPS suspension: The suspended Members of Parliament from Parliament have announced a sit-in at the Parliament building for 50 hours in protest against their suspension. These MPs will stage a 50-hour dharna in front of the Gandhi statue in the Parliament building to protest their suspension. Criticizing the stance of opposition MPs, Union Parliamentary Affairs Pralhad Joshi said, "God bless them". Trinamool Congress MP Dola Sen, who sat on a 50-hour dharna against his suspension, said that he was constantly demanding a discussion in the Rajya Sabha on the issue of GST and inflation imposed on food, but instead of holding a discussion in the House He was suspended. He said he would sit on dharna until he was suspended.
Suspended Aam Aadmi Party (AAP) MP from Rajya Sabha Sanjay Singh Said he demanded discussion in the house on many important issues including GST, inflation and death due to poisonous liquor in Gujarat but government is not ready to discuss, on the contrary we were suspended. In such a situation they have no other option but to dharna here (Gandhi statue).
'Show arrogance instead of admitting mistakes'
Responding to the opposition's dharna, the Union Parliamentary Affairs said that by apologizing for a mistake, a person becomes great, but instead of admitting his mistake, he shows arrogance. He took a dig and said that the government is concerned about the health of these MPs, they should go to their homes at night even though they are protesting here from morning till night.
'May God give them wisdom so that there will be a better and better discussion in the house'
Joshi said that the way he behaved in the house is not right. We don't even demand an apology from them, they just promise not to create such ruckus in future, then the government is ready to withdraw their suspension after the speaker's permission. Pralhad Joshi further said that 'May God give them wisdom so that there will be a good and better discussion in the house.'
Latest India News