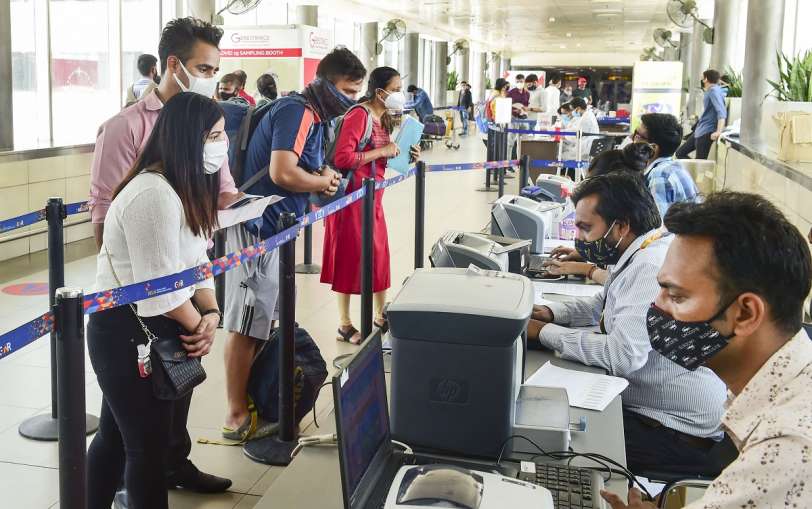 Now not required to complete the air facility form and get vaccine: The Government of India has taken an important decision in the interest of air travelers from India and abroad. This will bring great relief to thousands of passengers traveling by air daily. The government has now done away with the compulsion to fill the Air Suvidha form for passengers coming from abroad. Until now, every passenger coming from abroad has to give his travel history in this form, ie. where he comes from and where he is going. Name, address, mobile number, whether the vaccine has been taken or not. Whether there are existing symptoms of corona or not, and whether you suffer from cough, cold, fever, etc… details had to be filled out. But now the government has removed this condition due to the reduction in the number of corona cases. At the same time, the compulsion to be vaccinated has now also been done away with.
This means that now it will not be necessary for any flight passenger to present the vaccination certificate before the journey. Also, any passenger coming from abroad does not need to provide his travel details and personal information. Earlier, it was necessary to fill this information in the Air Suvidha form so that the passenger and other passengers who came in contact with him could be easily traced if he was infected with Corona. Now the cases of corona have been reduced a lot. The number of corona infections has dropped to less than 0.01. According to scientists, when the number of corona infections becomes less than 1, then the possibility of infecting others, even if a person is infected, is negligible. That is why the government has taken this decision.
Official notification issued by the government
This official notification is issued by the Ministry of Civil Aviation, Government of India. Where it has now been announced to free the passengers from the hassle of filling the tax return form ie. Passenger Facilitation Form. In the year 2020, this rule was particularly applicable to international passengers following the increase in corona cases at home and abroad. Later it was also made mandatory for domestic passengers. Since then, all passengers, domestic and foreign, traveling by air have been required to submit a self-declaration, i.e. details about himself in the Air Suvidha form. It also used to take a lot of time. But now no passengers have to fill out this form. This decision came into force from Monday midnight itself.
Until now, passengers have had a hard time
Till now it used to take a lot of time to make self declaration under Air Suvidha form and then download it. Passengers were issued boarding passes only after completing the mandatory Air Suvidha form and presenting the Covid vaccination certificate. Many times some passengers' flights were also missed in this affair. But now this requirement has been done away with. This has brought great relief to the passengers. Now it is no longer necessary for passengers to wear masks during the flight. Whereas earlier it was mandatory for every air passenger to wear a mask.
Latest India News